Owlhaven
has done this a couple times -- so I thought I would try you gals out!
I stuck Yard sale gold!I got 22 books for reading and teaching (some great literature and chapter books, I'll list the titles after the picture) a fosebal (?) mini table, a Barbie vacuum, an ABC stencil,a little airplane that attaches to the ceiling and flys around the room, a domino set, and a Tonka transforming fire truck.
How much did I spend??? Answers will be taken until Monday night (because of the holiday!) And then I will declare the winner the prize will be announced.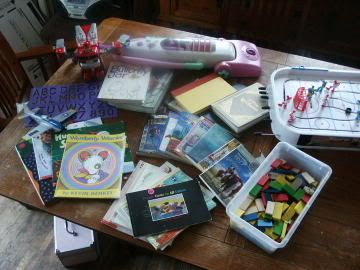 the titles are as Follows....
Misty of Chincoteague - Marguerite Henry
The Borrowers - Mary Norton
My Side of the Mountain - Jean Craighead George
Nothing's Fair in Fifth Grade - Barthe DeClements
The Wizard of Oz - L. Frank Baum
Ramona the Pest - Beverly Cleary
Peter Pan - J.M Barrie
The Journal of William Thomas Emerson - a revolutionary War Patriot
People Come in All Colors (a book of art and poetry)
Fudge-A-Mania - Judy Blume
The Ballad of Lucy Whipple - Karen Cushman
The Horse Called Pete - Elisa Bialk
The Butterfly Jar - Jeff Moss
Hans Brinker or The Silver Skates (a collection of stories) - Mary Maples Dodge
Madeline in London - Ludwig Bemelmans
The Underground Railroad - R. Conrad Stein
Ivy Cottage - E.J. Taylor
Sarah Morton's Day - A day in the Life of a Pilgrim Girl - Kate Waters
Wemberly Worried - Kevin Henkes
Hurry Santa - Julie Sykes
The Wild Toboggan Ride - Suzan Reid
Chicka Chicka 1 2 3 - Bill Martin Jr.
WELL???