SO here is the story on THIS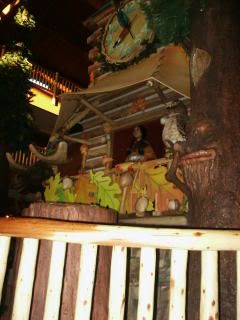 -- At Great wolf Lodge - there is this animatronic show- It consists of trees that talk and wiggle, a raccoon, owl, 2 squirrels, a "little boy"(the thing is like 5 feet tall a chuckie wanna be!) and Yellow Feather (aka - Bride of chukie). The critters "find" the little boy lost in the woods and proceed to sing him song about Mother Earth and how there is "nothing to be afraid of" in the woods. We went with another Christian family, and Jennie (my best friend) and I could not HELP but whisper little comments to each other the whole time. "yeah , nothing to be afraid of - until you step on a snake! - or eat the wrong berries - or meet a BEAR!--" We Were So Bad! Then there is thunder -- and the "little boy (chuckie wannabe)" say - why does Mother Nature have to be so loud? Jennie whispers -"Cuz FATHER GOD is pissed off that his work is being attributed to Mother Earth!" *snort* These dolls are the wierdest looking things - they are CREEPY looking!
The water park was REALLY cool! There was a waterslide that went UP! Ok - the raft would go up on a conveyer belt - but still it was up! And FAST!!! And there was one they called Coyote Canyon - but we all called it the Toilet! YES! You go down a tube into a big bowl and go around the edges a few times and then go down another tube and out! Really -- you get flushed! There was a wave pool, toddler pool, lots of slides - the kids all had a blast.
We also went outlet shopping and on the way home stopped at Pocono Snake and Reptile house. A small petting zoo and reptile house So here they are -- the backs of their heads anyway!
First - a BIG PIG!! He was greedy! I thought he would climb out of the pen!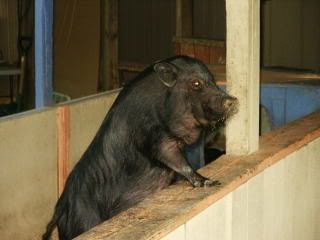 Thing 1! Feeding Pygmy goats
Thing 2! Feeding the bigger goats (there were deer in here too!)
Are they cute or what???!!! ;-)