A week ago I had this....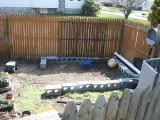 BUT TODAY!! DH has stopped being passive aggresive...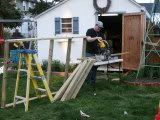 NOW I have THIS! And Since that picture was taken the back wall has been framed - that's what he's doin in previous picture - and the walls have started to go up.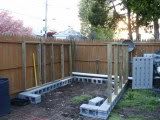 Also we planted salad today - the Things and I did
And I did some bed prep for corn and eight ball zucchini. Actually this bed looks even better because after I took the pickture I added in come compost and peat moss.
WHAAAAA HOOOOOOOO!!!!!!